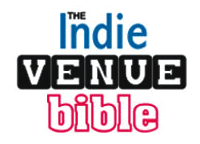 Don't go on tour without your Indie Venue Bible database
Included FREE with your order!
The Indie Venue Bible is the insider's professional gig database. Thousands of verified venues and hundreds of booking agents in your choice of region, free from Oasis.
The Indie Venue Bible is constantly being updated. You will have access to the newest PDF version for one full year.

You'll find thousands of coffee shops, restaurants, house concerts, theaters, clubs, halls, churches and book stores — any place you can land a gig.

To make your life easier, the staff of the Indie Venue Bible went a step further and painstakingly researched which genres of music each of these venues feature. Once the genres of a venue were determined, that venue was then tagged with a set of unique, colorful genre tags. These genre tags allow you to scroll through The Indie Venue Bible and see instantaneously which venues in a given area welcome your style of music.

Planning your tour, locally, regionally or nationally, has never been so easy.

NOTE: Oasis' FREE Tools of Promotion are included with your CD or DVD replication order (available for CD or DVD duplication orders for an additional charge).