Sell your music worldwide with CD Baby
Add a CD Baby membership to your Tools of Promotion.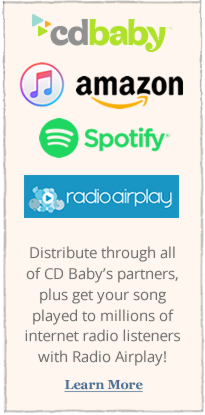 Not making 300 CDs but still want the Tools of Promotion? No problem! Add the Tools of Promotion with a Standard CD Baby membership for just $39. Or upgrade to a Pro membership for just $79 (highly recommended for songwriters).* With both packages you get all the benefits and discounts of the full Tools of Promotion, plus we will set up your account and mail your CDs to CD Baby for you.
Adding a CD Baby membership to your TOP gives you:
• Download sales on iTunes, Amazon, Napster, and other e-tailers.
• Free, customizable music player and store for Facebook band page
• Your CDs will be available at Amazon and, on demand at over 15,000 brick and mortar retailers around the world
• New! Make money by licensing your music for film, TV, YouTube, and more.
Our Distribution Bundles are recommended for albums only. If you are interested in distributing a project that contains a single track, we recommend signing your single up for distribution directly through CD Baby.
If you do not want CD Baby with your TOP, simply select Tools of Promotion without Distribution when ordering your CDs.
*CD Baby membership not included with from Tools of Promotion package. Must be purchased separately.
Want global royalty collection, too?
When your music is played on the radio, streamed on the Internet, purchased in a foreign country, or performed in a live venue — you are owed additional royalties. CD Baby Pro Publishing gets your money for you.
Add CD Baby Pro Publishing to your TOP for just $79. CD Baby Pro Publishing includes ASCAP/BMI registration, song registration with global collections agencies, as well as global royalty collection.
Join over a quarter-million indie artists (including The Head and the Heart, Ingrid Michaelson, Mary Gauthier, Joe Purdy, and many more) and let CD Baby help you get your music out to the world!
Just to be totally clear, here is how the pricing breaks down:
Tools of Promotion
With CD Baby Standard Distribution
$39 (plus we'll package and send 5 of your finished CDs to CD Baby)
With CD Baby Pro Publishing Distribution
$79 (plus we'll package and send 5 of your finished CDs to CD Baby)
Learn more about our famous Tools of Promotion suite of services.