Guaranteed 5- and 3-day turn times or you get cash back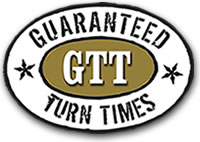 We know how it is. You work on your new recording for months, even years. But once your master is done you can't wait to get your finished discs into your hands. That's why we guarantee all of our 5- and 3-day turn times*.
How we do it: Each piece of your project is made right here in our own factory. That gives us complete control throughout the entire process, with turnaround times so reliable that we can guarantee them.
So what happens if we miss the turn time? You get real money back: $100 a day for every single day past the guaranteed turn — up to a full $500. But don't expect us to be late. We have the most reliable, in-house, allunder-one-roof operation in the country. We simply will make your date.
*Production times are not guaranteed during the month of December due to seasonal volume. Please call your Product Specialist for full details.