Single-speed glass cutting
Oasis Ultra-Fidelity Single-Speed Glass Masters:
A cut above the rest — Just $95, for a limited time.
It's no secret that engineers, audiophiles, and discerning music fans everywhere consider single speed glass mastering the finest in audio quality. It provides your master with ultra-precise sound replication — and it can be yours for only $95.
The standard way to cut your glass master is as fast as 8X speed. This is the accepted industry standard, and provides acceptable results. However, because of our in-house glass mastering facility, we can offer your release enhanced fidelity that cannot be achieved by brokers who sub their work out elsewhere (no matter what they may tell you). We use single speed to create a master that literally cannot be differentiated, even by an oscilloscope, from the source that's been provided. That's the Oasis Single Speed advantage.
REMINDER: Industry standard glass cutting is included with your Oasis order at no extra charge. This method is not "second rate" — your replicated CD will meet Red Book Audio standards and is guaranteed to be a digital replica of your master regardless of the glass cutting method you choose. The choice is yours — both options provide excellent sound quality.
NOTE: Every Oasis single-speed glass project is authenticated for you via a Certificate of Transfer Method, verified by our engineering staff. Furthermore, the inner ring of every disc manufactured by Oasis using this method indicates that it was made from Certified Oasis Single-Speed Glass. Unlike a broker who cannot control how your glass is actually cut, we personally make your glass master for you here in-house. And we do not release your single-speed project for replication — or ship it to you — without these important verification procedures.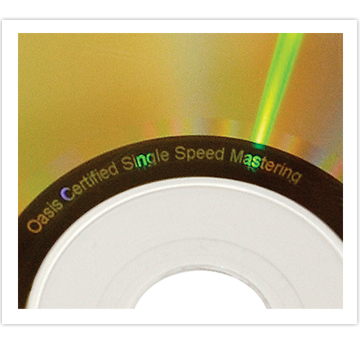 Marketing Note:
If you choose single-speed glass cutting, you'll want to let your customers know that they're buying the best! It's a wonderful way to let potential buyers know you've taken every possible consideration with the product they're about to buy. Download the proprietary "Single-Speed Glass Mastered" logo below so you can proudly display it in your artwork!
"Single-Speed Glass Mastered" Logos:
(includes large AND small versions, regular AND reverse)