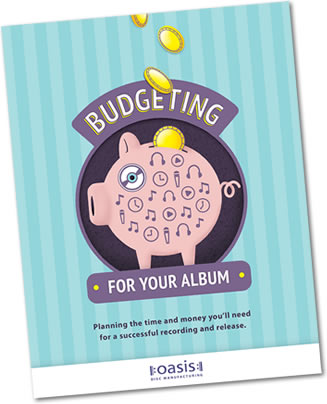 Oasis Disc Manufacturing Offers Free Album Release Planning and Budgeting Guide
Budgeting For Your Album is a free planning guide to recording and releasing an album for independent musicians.
DELAIR, NJ – Oasis Disc Manufacturing has just released a free PDF guide to help enable independent musicians to navigate the new music industry. Budgeting For Your Album: Planning the Time and Money You'll Need For A Successful Recording and CD Release is a 12-page primer designed to lead independent musicians through the process of creating and promoting a CD project on their own.
Oasis Disc Manufacturing's new guide was written to help musicians create a budgeting plan that breaks the audio recording, CD manufacturing, album release and promotion processes into manageable steps. This PDF download details the time, effort and expense that goes into planning an album release, including writing and rehearsing, recording and designing, and manufacturing and distributing a CD – plus pre-production, photography, sales and CD promotion.
"This new guide is designed to help musicians better understand and plan for the process of an independent CD release," says Oasis Disc Manufacturing president Micah Solomon. "As an extension of our Oasis Tools of Promotion™ resources, which help independent artists manage their CD and digital distribution, licensing, promotion and booking efforts, Budgeting For Your Album serves to educate and empower independent musicians to take ownership of their careers."
Budgeting For Your Album starts at the beginning, offering over 40 tips on topics ranging from song selection, rehearsal, and pre-production to recording, designing, and choosing a CD package. Advice on promotion and distribution is also offered in this guide, which is geared to first timers but serves as a blueprint for anyone preparing for a new CD release.
Budgeting For Your Album joins a host of other free guides and resources produced by Oasis. Other titles include The Indie Artist's Roadmap to Success, The Artist's Digital Presence, Learn The Business Part of Making It In The Music Business, and Getting Your Music's Worth in the Studio. Micah is also the author of Exceptional Service, Exceptional Profit, a CEO Refresher Top Ten Best Business Book of the Year.
About Oasis Disc Manufacturing
Oasis Disc Manufacturing is a leading CD & DVD manufacturer, specializing in eco-friendly products for independent musicians, filmmakers, software developers, and other content providers. Oasis offers CD & DVD duplication, CD & DVD replication, printing, custom disc packaging and design, Tools of Promotion™ resources, and the multi-platinum audio mastering of Frankford Wayne™. Oasis Disc Manufacturing is best known for its commitment to environmental responsibility by using 100% Green Forestry Practices stock and vegetable-based inks. Oasis has offices in Delair, NJ and the Washington, DC area (Springfield, VA).