Beginner's Guide to Oasis
Musician's guide to replication. We do what a label does for you.
Read This First!
Read this brief overview first to get started on learning more about how to prepare your project for replication. If you're ready to move on, then click below on the appropriate category or click through each step!
Oasis is a replicator of CDs and, but we're more than that. Oasis is a full-service resource for independent musicians and record labels.
At Oasis, we believe that everything we do to help you achieve success will be good for our business. We hope this guide gives you a better understanding of the steps involved in getting your CDs manufactured, promoted and sold.
Note: For information regarding CD-text, CDDB, and Gracenote, click here.

Once you've recorded and mixed all the tracks for your CD, you need to put them in the correct order and make sure the album sounds cohesive when the songs are played back-to-back. This is called mastering, and you can do it one of two ways:
1. You can master in the studio where you recorded. In this case, unless your studio has its own mastering equipment, you will simply be essentially transferring your finished mix from one source to another, in the final order you've decided upon, with each song exactly at the volume you want it, and with an appropriate amount of space between each song (typically 3-4 seconds). You can also do a limited amount of "sweetening" (changing EQ and reverb settings on individual songs) in the studio at this point, although it's more awkward to do this here than it would be in a mastering house.
2. You can master in a bona fide mastering house, where you will enjoy many more creative possibilities. Mastering-house equipment allows you to edit your performance on a computer system. (For example: you can replace a poorly-sung chorus with a chorus borrowed from elsewhere in the song almost as easily as you "cut and paste" on a word processor.) It also allows you to add effects like cross-fades from one song to another, and more. But perhaps the most important advantages of going to a real mastering facility are the following: 1) employing a fresh set of professional ears (the mastering engineer) during this last opportunity to tweak the sound of your recording, and 2) the chance to hear your songs on a fresh set of studio monitors (speakers), so you can hear how the mixes sound in a new environment.
If you are not already hooked up with a high-quality mastering facility, Oasis offers you the exclusive opportunity to get broadcast-ready Frankford Wayne mastering at a fraction of what you'd pay if you weren't our replication client. We will bring the broadcast-ready shine to your recording. Our work is 100% guaranteed; we will polish it 'til you love it.
After your recording is mastered, LISTEN TO YOUR MASTER — every single second of it — before sending it off.
We're often asked, "When my customers put my CD in their player, will my album title and track names show up?" The short answer is: "It depends what kind of player they're using and on what steps you've taken before they put it in the player." To learn more about CD Text, click here.
Design Information Form
(use this form if our designers are handling your graphic design)
Please Note:
Even though we're calling this "Step 2," we don't mean to suggest that you can wait until your album is mastered to start working on graphics! Start working on graphics when you start recording. That's not too early. Really.
How To Communicate Your Vision
How do you choose a graphic artist? How do you communicate your vision, your sense of design, your expectations? Try looking through your own music collection. Pick out covers that are most appealing to you, and make notes about the qualities you're reacting to (colors, shapes, photo, etc.). Go to your local music store and browse through the recent releases in your musical style. Make notes about what you like and what you don't like. If you have a design concept in mind, try to sketch it out.
What Information Do I Need To Include And Where Does It GO?
Pay attention to the details as you look at other artists' graphics. Note where their names are located on the front cover (often, at the top so they can be seen in tiered displays) and where the titles are. What information is included on the back? Note that the length of each song is listed (to help DJs with their programming). Have you noticed CD booklets in which the print is hard to read because of fancy graphics?
Word of Mouth
Talk to other musicians and ask who they've used for graphics and what their expenses were for artwork, typesetting, and layout.
Meeting With A Designer
Now visit some artists. Take along some of your favorite covers and your notes. Look at the artists' work. Do you like it? Compare prices, but note that "free" is often a very bad price-if it's a relative doing it for you for free, you'll end up on the back-burner behind their paying work. Note: you can probably save some money by providing your artist with the text of your liner notes in an electronic form (on disk or by E-mail).
For great results and exceptional value, consider DesignWorks™ at Oasis
Oasis has one of the industry's strongest in-house design departments, 15 designers strong. We are music industry specialists and your job will flow more smoothly than you've ever imagined. Prices start at just $296.
Click here
for information and samples of our work.
Use Our Art Templates
The criteria for preparing and printing CD booklets are technical and complex. Oasis makes it as easy as possible by offering free design templates for CD art preparation in several formats. You (or your graphic artist) can download them
here
.
Don't Settle For Less: High Quality Printing Standards At Oasis
When Oasis manufactures CDs, we include — at no extra charge — printing all the artwork, liner notes, etc. that you'll need for your release. Oasis prints all our discs and packaging in-house, and is renowned for its unusually high quality standards and strict control over the printing process.
Stand Apart From The Crowd: Ground Breaking Packaging Alternatives
Oasis offers more ground-breaking eco-packaging alternatives than anyone — all created from 100% Green Forestry Practices stock, and printed with 100% vegetable-based inks. We are one of the only companies in the industry to manufacture our own
Digipak
packaging in house, under one roof — and we offer your choice of 100% recycled Digipak trays, at no additional charge. Consider our
four-panel
or
six-panel Green Wallet
, The new Oasis
Secret Envelope
, or extremely economical
Full Color Printed Sleeve
(just a 80 cents a disc!)
Click here for more information on the
Oasis Soft Spot
.
Imaging
Templates
are available for all Oasis packaging options. Just have your graphic designer download them online. After your designer has completed the layout for you in our templates, your graphics can be sent to us, typically burned on a CDR. You will also want to send in your printouts of the design and the necessary completed forms. If you prefer, you can upload your graphics using our
FTP
site.

Many CDs are still packaged in a standard jewel case with a cover and traycard (backliner). Oasis offers some of the highest-quality Jewel case options, ranging from 2 panel up to many-page booklets and folders. However, you may want to consider an alternative to the jewel box, and if you do, Oasis offers more ground-breaking eco-packaging alternatives than anyone — all created from 100% Green Forestry Practices stock, and printed with 100% vegetable-based inks.
Order your Oasis Environmental Packaging Sample Kit here!
It comes fast to your mailbox and it's beautiful, packed with ideas and examples for your next project.
Oasis Environmental Practices
• All Oasis board and paper packaging is printed on 100% Green Forestry Practices stock. Green Forestry Practices means we don't promote forest monoculture, clear-cutting of virgin, old-growth timber, nor contribute to other destructive forestry practices.
• Over 99% of the inks we use to create Oasis projects are eco-friendly, vegetable-based inks.
• All the scrap polycarbonate, board, paper, and other industrial waste that can be effectively reused is captured in our plant for recycling.
• All of our manufacturing is domestic and nearly all of it is done under our own auspices, leading to one of the lower carbon footprints in the industry. In other words, Oasis helps reduce excessive strain on the environment by efficiently manufacturing and printing in our own facility, rather than farming out your work all over the country and even all over the globe, a standard practice for the brokers who predominate in the independent disc replication industry.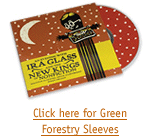 Kermit was right: Being green is tough.
Especially when your job, your passion, is creating.
Here are at Oasis we've been puzzling over this conundrum for years. How can serve our artistic clients, while limiting the stress we place on our planet?
We do it through environmental practices, and through making cool stuff.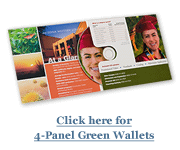 The cool stuff: Making great eco-packaging for you
We have a long lineup of environmentally friendly eco-packaging options. As mentioned above, everything in the Oasis line, including conventional jewel case packaging, contains some environmentally friendly elements. We use safe forestry practices paper stock and post-consumer recycled content.
Check out all of our eco-packaging options here.

By manufacturing, we mean the replication of CDs, and the packaging of those CDs (inserting the graphics and the recordings into plastic boxes or alternative eco-packaging, and shrink-wrapping).
CDs:
Here are some keys to making sure the CDs you receive are of high quality.
Replication vs. Duplication: Which one is is right for your job?
If you want your CDs made the way professional CDs are made, you are looking for CD replication. This means a glass master and stamper are made, from which your CDs are permanently molded. This is both the highest quality and most cost-effective way to make anything more than 500 CDs. For smaller numbers of CDs or if you are in a very great hurry, CD duplication -- which is not all that different from how you "burn" CDs at home — may be an appropriate alternative.
Choosing a Company with a Good Reputation
Almost every company in the independent music industry is, believe it or not, just a broker. So it's hard to know who is actually doing your work. Our recommendation is to try to work with someone who is doing your project in-house, not overseas, not even "just down the road from here." That way it's more likely that things will go right for you, and much more likely they'll be able to take care of things quickly if things don't.
How many CD jewel boxes does it take to tile your bathroom walls?
In hopes that you will never discover the answer to that question, Oasis offers you solid tools to promote and market your recording. It's good business for both of us: The faster you sell them, the more audience you'll develop and the sooner you'll be back for more CDs!
Create Your Plan of Action
It's best not to wait until the cartons of CDs arrive on your doorstep; plan ahead!
1. Packaging That Attracts Attention and Interest
Plan NOW to make your CD visually attractive to customers, promoters and media. It's not too soon to start the art. One great way to make your CD package stand out in a crowd is to choose one of Oasis' alternative packaging options to capture the eyes of your audience.
As you imagine your cover art design, you might find it helpful to study your favorite CD covers. Bear in mind that potential customers, A&R reps, and promoters WILL judge your CD by its cover, at least in part, and they may not connect with your artist's rendition of your clever cover idea. When you have a draft of your cover art, show it to fans of your style of music. Ask them to tell you truly whether or not they love the cover and why.
Make sure your artist has Oasis' Templates for CD Booklets and knows how to contact Oasis to coordinate the technical aspects of preparing your artwork.
Reprise: It's not to soon to start the art.
2. Make Your CD Retail-Friendly
It's crucial that your product look good when it's displayed. Here are some pointers.
• Pick a great looking
package
.
• Get a great graphic design, either through your own graphic designer or
Oasis DesignWorks
.
3. Get Distribution
Oasis allows you to distribute your music through
CD Baby
— the world's largest (and most trusted) distributors of independent music — entirely at OUR expense. Your songs will be sold on all the most popular digital music sites, including iTunes, Amazon, Spotify, Rhapsody, and more; your CD will be available for purchase in over 15,000 brick & mortar record stores worldwide; you'll have your very own music store on
cdbaby.com
where you can offer CDs, vinyl, and MP3s; you'll be able to sell your music on Facebook and your own website through CD Baby's promotional tools; and you'll earn money from the usage of your music on TV, commercials, YouTube, and more!
NOTE:
This service is for CD Baby standard submissions, not CD Baby Pro Publishing. — (CD Baby Pro Publishing submission are eligible for all of the same features as standard submissions)
In addition, we recommend that you create your own website that includes your contact information, performance dates, interesting stories and images, and which links to your distributor(s) for online sales. If you're working with Oasis, you can actually do this entirely for free for the first six months, through our partner
HostBaby
. Update the site as often as you can to keep your fans interested. (This is uniquely easy with your free
HostBaby
site, which is set up specifically for the needs of musicians and their fan base and touring schedules.) Many independent artists with limited CD manufacturing budgets are putting song lyrics and photos on their websites in order to save money on graphic design and printing.
Finally, post your electronic press kit with
Sonicbids
and get it out to the venues and promoters you want to work with. It's more economical than sending bulky press kits, and with Oasis it's free for an entire year.
4. Stay in Touch with Your Customers
Encourage your customers to sign your mailing list, both online and at your gigs, so you can let them know when you'll be back in town and when you have a new CD release. Remember to ask for email addresses, too; emails save the cost of printing and mailing expensive newsletters and postcards. Email addresses change frequently, though, and without notice. Sending occasional "snail" mail to home addresses (address correction requested) is the most reliable way to stay in touch with everybody.
5. Plan to Keep On Promoting!
Use our
resource links
to tap into the music industry's hidden gems.

Those CDs take up a lot of room in your basement. Now that they're here, how do you get rid of them? Here's advice from our friend Peter Knickles of "Basements To Backstage" fame on how to do so.
In distribution you have two important jobs. Peter calls these "sell in" and "sell through." "Sell in" is the work you do to convince the manager of your local record store and/or a rep at a national distributor — to stock your product. "Sell through" is the promotional work you do to convince the average consumer that he or she should seek out your CD. Selling to the local record store or national distributor is difficult unless you can clearly explain your marketing plan to get your target consumer excited about your CD — excited enough to run to the store and purchase it. The more you can do for promotion, says Peter, the more chances the store will stock it.
Oasis offers three complete programs that do much of the "sell in" work for you so you can concentrate on "sell through."
The Problem Oasis Solved
Unless you're signed with a label, the major retailers won't sell your product. You can sell on the internet, but how do you get the world to your webpage? You can sell through small, specialized music sites until — oops — dot.com dot gone. You can sell your CD alongside the major label products at the online Superstores, but they're gigantic — and when you have questions about your account, it can be hard to get anybody to pay attention to you.
Your Distribution Solution

(We believe the quicker your CDs sell, the sooner you'll be back for more). Sell your music worldwide through CD Baby, offering physical distribution to over 15,000 record stores, digital distribution to the most popular download and streaming sites, CDs and MP3 sales on cdbaby.com (the hippest music store online), and much more.