Oasis Difference #4
We guarantee your project's Turn Time — with money back for you!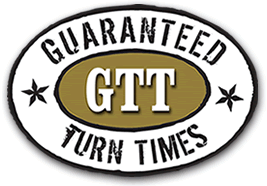 Our in-house capability is part of what makes Guaranteed Turn Times (GTT) possible at Oasis. Anywhere on this website or in our catalog where you see the GTT logo it means we guarantee a production date. We give you serious cash back if we're even a smidge late on your project — $100 a day, up to $500 in your pocket. For projects less than 500 units, you get 10% back for every day we miss our deadline.
(But don't count that money yet — we have the most efficient powerhouse of an in-house operation that has ever been assembled to support independent musicians. We simply will make your deadline.) Remember: When someone bats around turn time quotes in our industry, ask them a simple question: "Is that turn time guaranteed?" With Oasis you know it is.
The guaranteed turn time (GTT) program is one of three important guarantees at Oasis that ensure your confidence throughout the manufacturing process.
The Three Oasis Guarantees
We provide you with three separate guarantees to ensure your confidence during every stage of the manufacturing process.
A. We guarantee... your graphics and design proofs. The graphics proofs we prepare from your artwork will meet your exacting standards or you get your money back at the proofing stage. And when you choose to have our trained professionals at Oasis Designworks create your design, we guarantee that you'll love the design we create for you or we'll refund your money in full at that time.
B. We guarantee... our mastering work. We will, if you choose, master your CD for you through our Frankford Wayne™ mastering facility. for a fraction of what it would cost you if you weren't a replication client of ours. And, because you're ordering your mastering work through Oasis, we guarantee we'll master it until you're satisfied — or we'll run your master straight, with no mastering charge. Learn more here!
C. We guarantee... our turn times. We will finish your Guaranteed Turn Times (GTT) product on the day we say we will or we pay you cash. Learn more here!
Such guarantees are signs of Oasis' commitment to you. But your single most important assurance is the outstanding reputation we've built client by client, project by project. Some of your friends are almost certainly among our clients; so please ask them what they think!
Or, just pick up the phone and call us, toll-free, 1-888-296-2747. You'll notice the difference right away.
"I can't say enough good things about Oasis. Most importantly, when you have a question or a problem, a real person responds — and takes responsibility. In a world where everything is someone else's fault, that's a huge 'use Oasis again!' for me."
Oasis Client:
Janis Ian
janisian.com