Sell your music worldwide with CD Baby
Get worldwide music distribution on iTunes, Amazon, Spotify and beyond.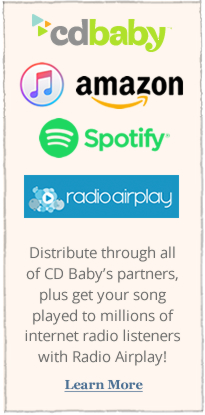 CD Baby helps you sell and stream your tracks on iTunes, Amazon, Spotify, Facebook, Apple Music, iHeartRadio, Napster, and more!
You've made your music; now put it to work. With CD Baby's worldwide distribution service, you can sell your music everywhere, including:
• Download sales on iTunes, Amazon, Napster, and other e-tailers.
• Streams on Spotify, Apple Music, Tidal, and more.
• CD sales on CD Baby.
• Easy-to-install Music Store widget to sell CDs and MP3s right from your own web site, as well as your Facebook band page.
• Your physical CDs will be available at Amazon and on demand at over 15,000 brick and mortar retailers like Target and Best Buy, via CD Baby's partnership with Alliance Entertainment and Super D.
• New! Make money by licensing your music for film, TV, YouTube, and more.
With CD Baby there are no annual or cancelation fees and they pay you every Monday. In fact, they offer the highest payout for MP3 sales of any digital music retailer.
Want global royalty collection, too?
When your music is played on the radio, streamed on the Internet, purchased in a foreign country, or performed in a live venue — you are owed additional royalties. CD Baby Pro gets your money for you.
Add CD Baby Pro to your TOP for just $89. CD Baby Pro includes ASCAP/BMI registration, song registration with global collections agencies, as well as global royalty collection.
Join over a quarter-million indie artists (including The Head and the Heart, Ingrid Michaelson, Mary Gauthier, Joe Purdy, and many more) and let CD Baby help you get your music out to the world!
Just to be totally clear, here is how the pricing breaks down:
Tools of Promotion
NO CD Baby distribution
FREE if you are making over 300 CDs
With CD Baby Standard Distribution
$59 (plus we'll package and send 5 of your finished CDs to CD Baby)
With CD Baby Pro Distribution
$89 (plus we'll package and send 5 of your finished CDs to CD Baby)
Learn more about our famous Tools of Promotion suite of services.