The OasisSampler™ Radio Promotion Program
A $350 value, yours for just $50 with your CD replication order.
Radio has always been the holy grail of promotion. And for indie artists, it's an especially tough slog to get your CD into the hands of a program director. If you're an Oasis client, however, you can get your music out to radio stations (and other industry players) across the U.S. for just $50!
When you manufacture a new CD with us, you can choose one song to be included on your choice of OasisSampler CDs, each of which goes to a carefully chosen list of 400 to 700 (depending on genre) radio stations nationwide. We only send Samplers to stations that have a proven track record of playing independently-produced music.
OasisSamplers get serious attention. They've assisted our clients in getting soundtrack work, licensing for television (for Grey's Anatomy, Big Love, Deadwood, and more), and many other opportunities.
Oasis customers can access the list of contacts that the Sampler has been sent to free of charge, only through LiveWire Musician.
With Oasis, radio promotion is no longer a pipe dream. It's a wonderful reality.
New! 1,000 free spins on
Internet radio – guaranteed.
Get your songs to people who like your kind of music with Radio Airplay. Radio Airplay's radio stations have 8 million listeners and they let you choose who gets to hear your music. You already get 500 spins with your TOP package. If you add the OasisSampler you get an additional 500 free spins.
For more information visit our Radio Airplay page.
The OasisSampler™ radio genres you can select from include:
• Acoustic*
• Alternative
• Country & Roots
• Pop & Adult Contemporary
• Inspirational
*including world, acoustic blues, and children's music, in addition to singer/songwriter and traditional folk.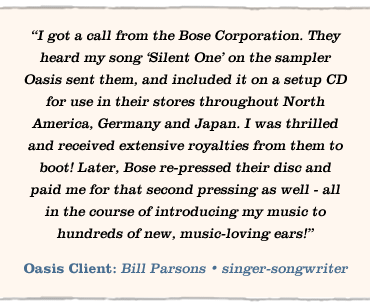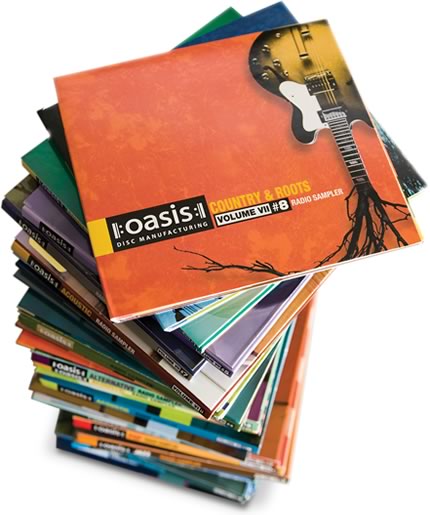 How To Order: The OasisSampler™ is available for purchase with any CD replication package. When creating a disc package quote online, simply add the $50 OasisSampler™ to your order prior to saving your quote. If placing an order offline, call 1-888-296-2747 and ask your client advisor to add the OasisSampler™ to your CD order.