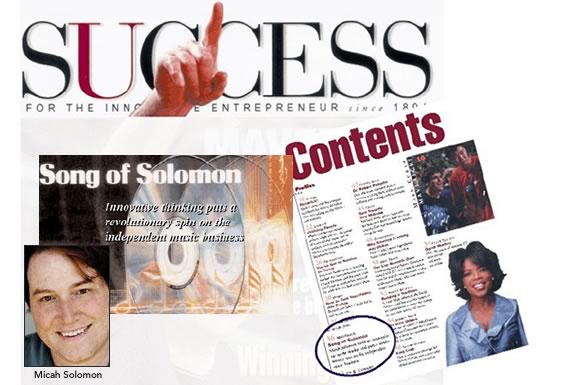 36 Success Mavericks: Oasis Disc Manufacturing
by Jared C. Crooks
Reprinted with the kind permission of Success Magazine, in which this article first appeared.
Oasis Disc Manufacturing began with a simple but revolutionary idea: provide independent musicians and record labels with the ability to compete in an industry dominated by a handful of enormous record companies. For years now Oasis has done just that, spurred on by the vision of its president and founder, Micah Solomon.
After completing his studies in American Civilization and Music at Brown University and Berklee, Solomon tried to build a fledgling business for himself as a recording engineer by renting space in local studios — all the while supporting himself as a secretarial "temporary."
Solomon then began to invest his efforts in CD manufacturing and packaging. Getting in early, Oasis was able to carve out a niche in the market and begin offering products and services otherwise unavailable to independent musicians. Oasis became a unique service dedicated to the uniqueness of each of its clients.
With his clients' success in mind, Solomon began creating samplers of the artists he dealt with and sent them off to radio stations nationwide. In an industry where getting your voice heard is necessary for success, Solomon worked to identify the most expedient outlets for the multitude of genres Oasis came to work in.
Along with the samplers, which have come to find continual success on college music charts across the country, Oasis offers its clientele access to distribution of physical product, as well as new opportunities that allow for paid direct digital downloads.
The emphasis all along has been to allow the musician to focus on his craft and let Oasis handle a lot of the musicians non-musical needs. Bar codes, SoundScan registration, creative packaging, and top spine stickers provided by Oasis afford the artist's work the chance to get noticed.
What has made a name for Solomon in his particular corner of the market is both his understanding of what independent artists need to be successful — he knows his customers — and his willingness to change direction, if need be, in light of where the market is moving. This flexibility is what separates Oasis from its competitors. Creative packaging, step-by-step information resources, and more distribution channels than independent artists could ever hope to find themselves — all this is just the beginning of what Solomon has worked into the Oasis menu. Oasis has made a commitment, over the course of its existence, to stay steps ahead of where the industry is going.
Quality is key. Although its prices are competitive, Oasis has never tried to compete on price alone. "Most of our competitors,"Solomon says, "always advertise 'the cheapest CDs around.' We've always just focused on the quality of products and services we offer."Steady growth and a continuing commitment to a customer base he knows thoroughly has brought Solomon to the forefront of the industry as he works to open more and more channels through which the voices of its clients can be clearly heard. Remaining innovative and relevant, for his company, is — as it has always been — job number one.
To reach the subject of this article write to micah@oasisCD.com