Micah's Musings
How 150,000,000 YouTube Views Changed His Life
March 23, 2016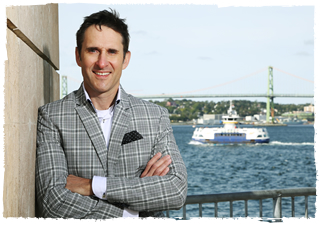 This being the month of Oasis's Taylor Guitars giveaway, I spent some time with Oasis client Dave Carroll, the musician whose airline-abused Taylor guitar became world-famous via Carroll's song and video, United Breaks Guitars, which is reported to have received over 150 million views on YouTube and elsewhere.
Micah Solomon, President and Founder of Oasis: Give us some background on the United Breaks Guitars story.
Dave Carroll: United Breaks Guitars is a YouTube music video released in 2009 by my band, "Sons of Maxwell." It was my response to a tragic incident involving my Taylor 710CE acoustic guitar and some poor baggage handling by United Airlines the year previous. The video went viral and became a worldwide media frenzy partly because people were still trying to understand the relevance of social media. YouTube had been a depository of a lot of poorly shot/sounding content that was light and forgettable. It was rare that people were uploading free content that was professionally produced, entertaining and that addressed something more.
When the media reported that my video was responsible for a $180 million US drop in United's market capitalization, it became an important story because many brands were actively watching how one dissatisfied customer is able to detract from the brand of even the mightiest of companies by their own mishandling of a single poor customer experience. In fact, a representative of Google once called United Breaks Guitars one of the most important videos in their [Google's] history.
How has it changed your life? I've since traveled to over 25 countries now to share my message about the implications of our connection with one another, customer service, branding and the power of storytelling. I'm still making my own music but am also grateful to write songs that bring out the essence of a message for organizations or businesses with integrity.
With the oversized mustaches, sombreros, and other great disguises in the video, have you have been somewhat shielded from paparazzi stalking? The beauty of being "YouTube infamous" for something like United Breaks Guitars is that it offended very few people, so either I am completely unrecognized, or, when I am, people are for the most part not invasive. Although, my wife and I were having lunch one day in a local food court and my iPhone displayed a notification from someone saying "Dave Carroll is eating lunch in the same food court as I am." I started taking smaller, more civilized bites of my sandwich and felt a little odd.
Can one musician, customer or citizen really get their voice heard and make a difference, like you did, or was United Breaks Guitars just a fluke? Every person on the planet has a story worth sharing, and the tools exist for any single person to amplify their message like never before. Is it likely anyone who wants to can achieve the millions of hits and the media attention that I did with United Breaks Guitars? Probably not, but I got the attention of the world's media with hits measured in the tens of thousands, not millions. The millions of hits that came later only added to the number but the work was done much earlier than that. Not every story needs millions of listeners, and the goal should never be a particular YouTube count anyway. If it is, you're putting the "count before the cart." Instead, if you focus on making good, creative content that speaks to the heart of your intended audience, it's your best chance to truly reach them.
How would you suggest that companies respond to customers so they don't trigger a future United Breaks Guitars-type audiovisual assault? Saying "I'm sorry" is often the least expensive way to start solving a problem: taking responsibility when you've failed a customer is not only the right thing to do but also the way to expedite a solution.
Also, I think companies that are founded upon caring and compassion as part of their business plan will tend to avoid potentially disastrous brand damage. I call that approach Compassionate Design; it recognizes the importance of considering the needs of suppliers, your employees, your customers and shareholders as one whole, as opposed to separated silos that range in importance and value to you. If the story you're selling is incongruent with the story everyone believes, your brand is a ticking time bomb.
Since the subject has turned to customer service, may I ask you what it's been like to work with Oasis on manufacturing your CDs?
First, let me tell you how challenging CD manufacturing was before I started working with Oasis. As an indie artist, I've had to work with manufacturers to ensure our recordings arrive on time and for a good price. We once released a CD in Halifax that had significant media and 300 fans come to celebrate but no product because the manufacturer wouldn't rush the job under any circumstances. Their priority was to the major labels and our small run was essential only to our career and fan base. That was not only embarrassing but costly when indie artists rely on off-stage impulse sales as a significant portion of music sales.
My experience years later, after I discovered Oasis, has been completely different. The customer experience is outstanding. The turnaround times are lightning-fast and prices are competitive. Ultimately it comes down to the product and my CD's have sounded like they should and look great. All of which has made me religious about recommending Oasis to people in need of manufacturing.
Oasis is actually a great example of a company that utilizes what I call "compassionate design." Unlike the previous example of the manufacturer who simply took orders and churned out our CD's according to their rigid timeline, regardless of the consequences, Oasis offered a customized experience because not every customer has the same needs. The other company was difficult to reach. Oasis proactively responds and ensures that the customer has a great experience from start to finish. That is not an accident and the fact that caring about the customer is a fundamental value at Oasis is precisely the reason I use them.
To learn more about Dave, head on over to www.davecarrollmusic.com.

Micah Solomon
President & Founder
Oasis Disc Manufacturing