Micah's Musings
An interview with a cappella and Jewish shtick star Sean Altman
June 29, 2016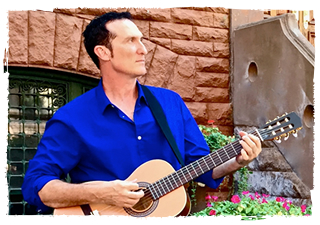 Oasis client Sean Altman has had an astonishingly diverse musical career that includes helping to create the modern a cappella revival, long before the emergence of Glee; a worldwide hit with the theme song and starring performances in Where in the World is Carmen Sandiego, and another chapter in Jewish shtick (lighthearted, ethnically themed comical songs aimed at Jewish audiences) as the 6'3" solo act, Jewmongous. For decades he's had his wide range of CD and DVD projects manufactured at Oasis, which, I feel, gives me carte blanche to ask him anything and everything.
Micah Solomon, President, Oasis: Share with us the Sean Altman origin story.
Sean Altman: I grew up in hardscrabble Bronx, NY, in a one-bedroom apartment with a huge-for-the-'60s 17-inch Sony television and a monster-infested closet. Somehow, between episodes of Hogan's Heroes, The Beverly Hillbillies and Bewitched I managed to learn both Paul's and Art's vocal parts on all five Simon & Garfunkel albums and memorize the original cast album of Fiddler On the Roof. Thus was born a career harmonizer with a penchant for Jewish shtick. During a high school summer job at a Catskills resort I saw my first barbershop quartet and was further smitten with vocal harmony. By the time I got to college I was already a crusty pro — gigging with a rock band, a jazz duo and the barbershop octet that would eventually spawn Rockapella.
Micah: How did you get to be so tall?
Sean: I'm only 6'2", but my impeccable posture gives the illusion of even greater height.
Micah: You were a legend in my circle of friends at one point in your new wave-ish group, Blind Dates. Tell us about almost making it big in that phase of your career.
Sean: Indeed, my college rock band Blind Dates made a splash around the Northeast, and our 1983 video was on MTV's Basement Tapes (an amazing achievement at the time!). We had the hooks, the hair and the chops, opening shows for Til Tuesday, Men Without Hats, Translator, Romeo Void, Fishbone, Eurogliders and Laura Branigan. We seemed poised to break through but every major record label rejected us as not the next shiny new wave thing. Fortunately, my "side project" — a vocal quartet of my college barbershop pals called Rockapella — was starting to work regularly at bar mitzvahs and comedy clubs.
Micah: Easy, Sean, you're getting ahead of me here. A huge feat in your early career was scoring (in both senses of the word) the Where in The World is Carmen Sandiego theme song. Tell me about that, both how it went down at the time and how it continues to be relevant, even into the 2016 Presidential race.
Sean: Kathie Lee Gifford saw Rockapella perform at a fancy dinner party and invited us to sing my arrangement of an old calypso novelty song called Zombie Jamboree on ABC's Live Regis & Kathie Lee. We parlayed that appearance into a string of daytime TV spots. Our big break was getting cast on the PBS Great Performances documentary Spike & Company — Do It A Cappella along with Take 6, Ladysmith Black Mambazo and our idols from Brooklyn, The Persuasions. We made an impression with our quirky choreography and my plastic zombie eyeballs. The team developing the computer game "Where In The World Is Carmen Sandiego?" into a PBS live action game show cast Rockapella as the zany house band and — presto! — mid-level children's TV stars were born. I penned the popular theme song with my high school and college pal David Yazbek (now known as Broadway's David Yazbek!). The song benefitted from the exposure of Rockapella lip-syncing it on national TV every day for five years. It has since been licensed by the Today Show for "Where In The World Is Matt Lauer?" segments and used (legitimately and otherwise) by numerous other enterprises including Saturday Night Live, The Colbert Report, The Glenn Beck Show, Off The Boat, Funny Or Die, College Humor and a recent unauthorized use by Rand Paul For President.
Micah: You had a huge part in the emergence of a cappella as a force to be reckoned with. Tell me about that.
Sean: Rockapella's starring role on all 295 episodes of Where In The World Is Carmen Sandiego? put the group at the forefront of the modern a cappella movement which has since yielded Glee, Pitch Perfect, The Sing-Off and an explosion in the of popularity of unaccompanied pop singing. As such I'm sometimes called "the father of modern a cappella," a title I willingly embrace.
Micah: You seem to have a great sideline going now — or, oy, maybe it's a main line — in Jewish comedy music. Would it kill you to tell me about that?
Sean: After I quit Rockapella to forge a solo path I released two albums of bittersweet powerpop. I occasionally snuck a funny original into my set and over time the comedic songs seemed to eclipse the more heartfelt stuff. Even though I'm secular, I do feel an incredible bond with my Jewish heritage, though, and my exploration has yielded two albums (one coming this year) and five delightful videos for my comedy song act JEWMONGOUS. The concerts draw big audiences and get glowing press so it's been great fun for me.
Micah: What's next for Sean Altman?
Sean: In 2016/2017 I'll release a new Sean Altman powerpop album, a Jewmongous album, a debut album by Dragon Meets Phoenix (my pop project with Patti Rothberg), a new a cappella album by The GrooveBarbers, and a single of "Fly Like An Eagle" featuring Steve Miller and The GrooveBarbers. I'm also doing vocal arrangements for Doowopera (the GrooveBarbers backing up my opera singer wife Inna Dukach). Look for Jewmongous and The GrooveBarbers on tour this December, after which I might get a second hip replacement.

Micah Solomon
President & Founder
Oasis Disc Manufacturing